01 February 2017
Introducing the Dynamic Shader plugin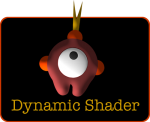 When most people think about 2D games, they imagine a relatively "flat" environment — layered 2D sprites and images on a background. Some developers add parallax scrolling to give the impression of depth and distance, but generally that's the limit. Very few developers even consider the possibility of adding lighting effects and shading to a 2D world, since these are design aspects usually reserved for 3D games.
Now, thanks to innovative developer SporkFin Software, Corona developers can easily add beautiful lighting and shading effects to their 2D art with the Dynamic Shader plugin. This shading occurs dynamically in real time, updating every frame, allowing for vivid expressions of mood and atmosphere.
While Corona has featured this core technology for several years, most developers are not aware of how to implement it. The Dynamic Shader plugin, now available in the Corona Marketplace, makes the process of lighting and shading your game considerably easier with a wide assortment of APIs and configuration options. According to the plugin author, it only takes 4 steps and a few lines of code to add dynamic lighting to your app!
As always, Corona Labs — and enterprising studios like SporkFin Software — are committed to building the best 2D app development platform in the market. Grab the Dynamic Shader plugin today and bring a new level of atmosphere to your games!